Genealogy research tools
Occassionally the Silicon Valley Computer Genealogy Group (SVCGG) develops tools that we believe can be useful to anyone researching family history. The current tools developed by the SVCGG and available to members and nonmembers are listed below.
Stuck-on Sources pads
Stuck-on Sources are pads of "sticky notes" (real Post-It(© 3M) notes) pre-printed with blanks for the information you need to keep track of source information about your photocopies, letters, and other documents. We designed these ourselves after a long research trip that generated a mountain of photocopies.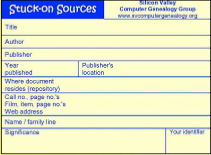 Take them to the library with you, or stick them on folders to keep track of your source information so you can enter it into your database. Each pad contains 25 - 3"x4" sheets. Price includes Media Mail postage via the United States Postal Service (First Class/Priority postage options are available at checkout):
US$4 for 5 pads (125 sheets)
US$7 for 10 pads (250 sheets)
US$14 for 25 pads (625 sheets)
US$25 for 50 pads (1,250 sheets)
Online ordering is available through our online store. We accept major credit cards.
Mail orders can be sent to:
Silicon Valley Computer Genealogy Group
P.O. Box 23670
San Jose, CA 95153-3670 USA

Please enclose:


a check or money order (made out to Silicon Valley Computer Genealogy Group);
your mailing address; and
your telephone number.